Departure: Daily, Year-round / 9:00 am & 2:00 pm
Duration: 3.5 hrs
Pricing:
1: $460 per person
2: $250 per person
3: $180 per person
4+: $145 per person
Pick-up Location: Select Downtown Portland Hotels. Click here for a list of many hotels we pick up at.
More than just a basic Portland city tour, our half-day Portland City Tour will reveal the laid-back small city feel of this fun and thriving downtown. You will experience the best Portland sites including the International Rose Garden, Pioneer Courthouse Square, NW 23rd (the best shopping area in Portland), the Pearl District, the South Park Blocks, the PSU Farmers Market (on Saturday AM tour only), and N. Mississippi (on all other AM and all PM tours).
Today Portland is known as one of the world's most environmentally conscious cities: a hub for farm-to-table eateries, alternative lifestyles, a large community of cyclists, and high walkability.   Let our informative and entertaining Tour Guides show you the best the City of Portland has to offer.
Book 9 AM Tour:


Book 2 PM Tour:

Downtown Portland & Pioneer Courthouse Square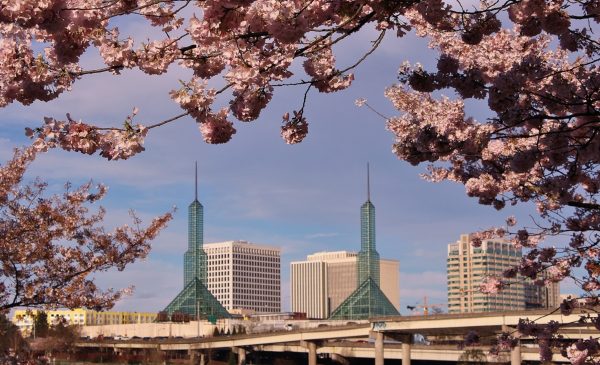 Learn about the modern heart of the city, Portland's downtown, and the historical importance it has played in the state's history. Enjoy the sights of Pioneer Courthouse Square, fondly referred to as Portland's Living Room. This community space opened in 1984, and has become the center of the city's social activity with over 300-programmed event days. Pioneer Square is the perfect spot for people-watching and observing Portland culture at its best: everything from fresh-food markets to beer festivals to political protests to the city's largest community sing-along.
International Rose Test Garden
Let the fragrance of our Rose Gardens embrace your senses with over 600 roses and be delighted with the beautiful Washington Park nature, featuring some of the most amazing  city & mountain views around.
More than 10,000 individual rose bushes bloom in the International Rose Test Garden from late May through October, representing over 610 different rose varieties. The majority of roses in the Garden are commercially available. About 10 to 20 varieties are replaced each year with some of the best new roses released onto the market. We will visit the rose garden seasonally.
Nob Hill/Pearl District
Experience Portland's trendiest downtown neighborhoods. Nob Hill features a popular shopping district with tree-lined streets and lovely Victorians repurposed into restaurants, boutique shops, and dessert bars. In the Pearl District, we will see formerly derelict warehouses transformed into a thriving restaurant and brewery scene, and now one of the most expensive places to live in the city.
South Park Blocks
This is one of Portland's oldest and most popular parks. This 12-block greenspace stretches north from the campus of Portland State University, serving as a front yard for residents and businesses of the Cultural District. The park hosts vibrant community events and programs for Portlanders and regional visitors throughout the year.
PSU Farmers Market (We will stop here on Saturday Morning Portland City Tour)
The PSU Farmers Market is a world-class farmers market that contributes to the success of local food growers and producers, and creates a vibrant community gathering space.  The Portland Farmers Market at Portland State is large, spanning almost three blocks throughout the Portland State University campus. This means there is no shortage of vendors for the whole family to love. The options of where to buy and eat are truly endless at this market. They even have a Veggie Valet for shoppers to leave their bulk purchases while they finish up shopping! The market also has musicians and a Chef in the Market series which is a showcasing of cooking with seasonal marketing ingredients from local chefs.   The PSU Farmers Market will only be visited on our Saturday Morning Portland City Tour and you will have time to walk around and explore the market.
N. Mississippi Avenue (We will stop here on Afternoon Portland City Tour)
North Mississippi Avenue features a long stretch of vibrant shops, unique bars, music venues and restaurants (and is only a half-mile away from even more acclaimed eateries and bars on up-and-coming North Williams Avenue). This location will be visited on the Monday-Friday & Sunday morning Portland City Tours, and all Afternoon Portland City Tours and you will have time to walk around and explore this area.
Photographs courtesy of www.travelportland.com