Dates:  Tuesday, Thursday, Saturday, Sunday (Year-round)
Duration: 9:00 am until 5:30 pm
Pricing: $130.00 per person
Hotel pick-up: Downtown Portland hotels  Click here for a list of many downtown Portland hotels we pick up at
Loading…
AHWT IS A CERTIFIED SELLING AGENT FOR TRAVELSAFE INSURANCE – Protect your trip for unforeseen cancellation (air, hotel, tours). Click here  
America's Hub World Tours, Oregon Tour Experts and other local partners strive to bring you the very best and most complete tour experience available.
Take part in a unique Oregon cultural experience with a trip to Mt. Hood, which includes a stop at Multnomah Falls during our voyage through the nationally recognized Columbia River Gorge and the Hood River Valley.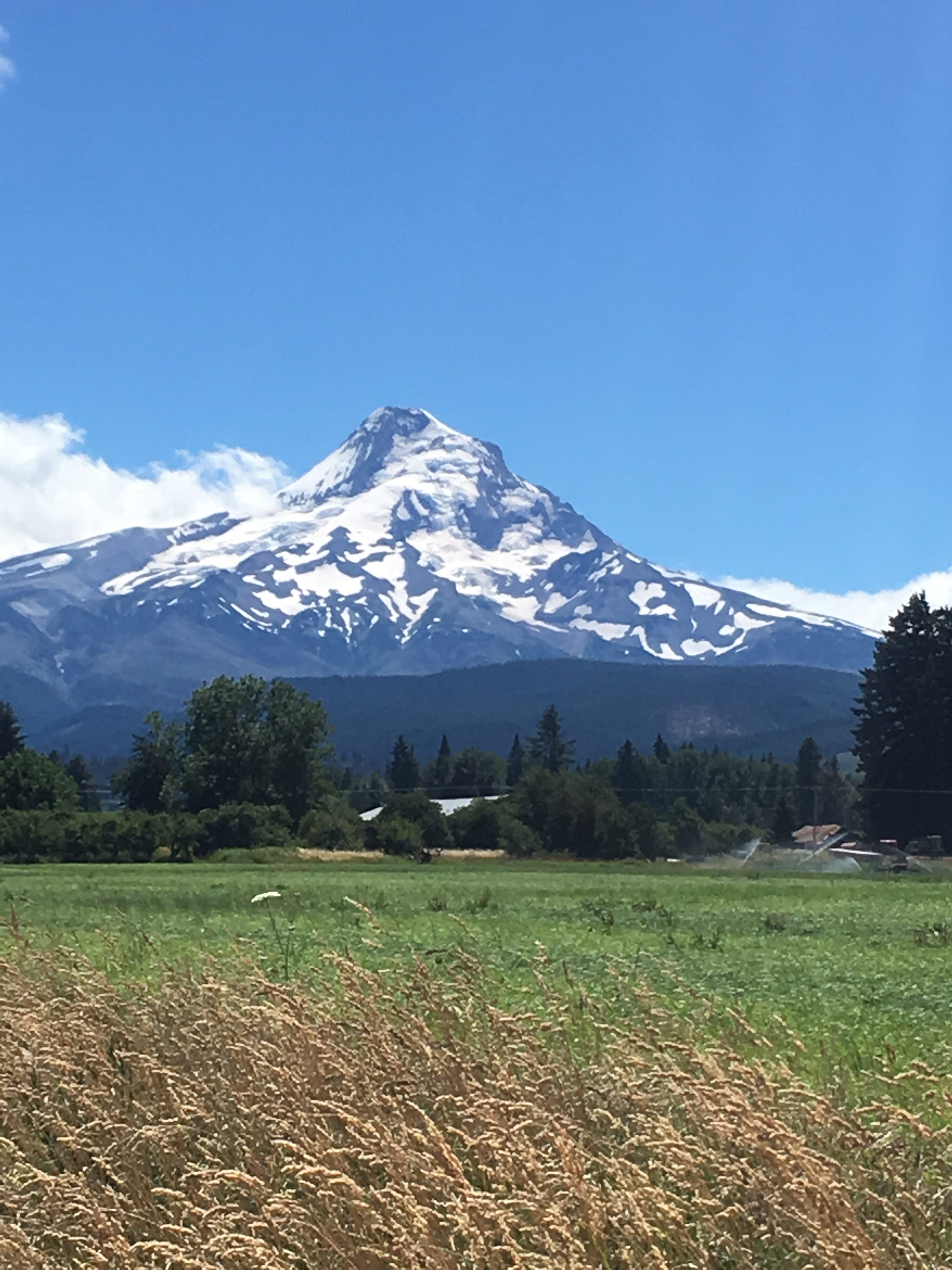 Tour Highlights:
* Bring a Camera! The views of the Columbia River Gorge, Multnomah Falls and Mt. Hood are spectacular photo opportunities and also provide the perfect backdrop for selfies and group photos.
* Learn the History! During the journey through the Columbia River Gorge to Multnomah Falls and Mt. Hood, you'll learn about the land and the region's culture, and how this incredible landscape was shaped over time.
*Enjoy a luxury trip! From the magnificent views of the Columbia River Gorge, Multnomah Falls and Mt Hood to the comprehensive site tours of The Bonneville Fish Hatchery and Timberline Lodge, you'll understand why this region is nationally recognized for its unique grandeur and beauty.
Tour Description:                                                                                                                                                                
On this tour we will explore the Columbia River Gorge, visit the town of Hood River for lunch, drive through the Hood River Valley and up the side of Mt. Hood to Timberline Lodge. The sites that we may visit include: Multnomah Falls, Bonneville Fish Hatchery, Hood River, Rowena Crest, a farm stand (seasonally), Trillium Lake (seasonally) and Timberline Lodge.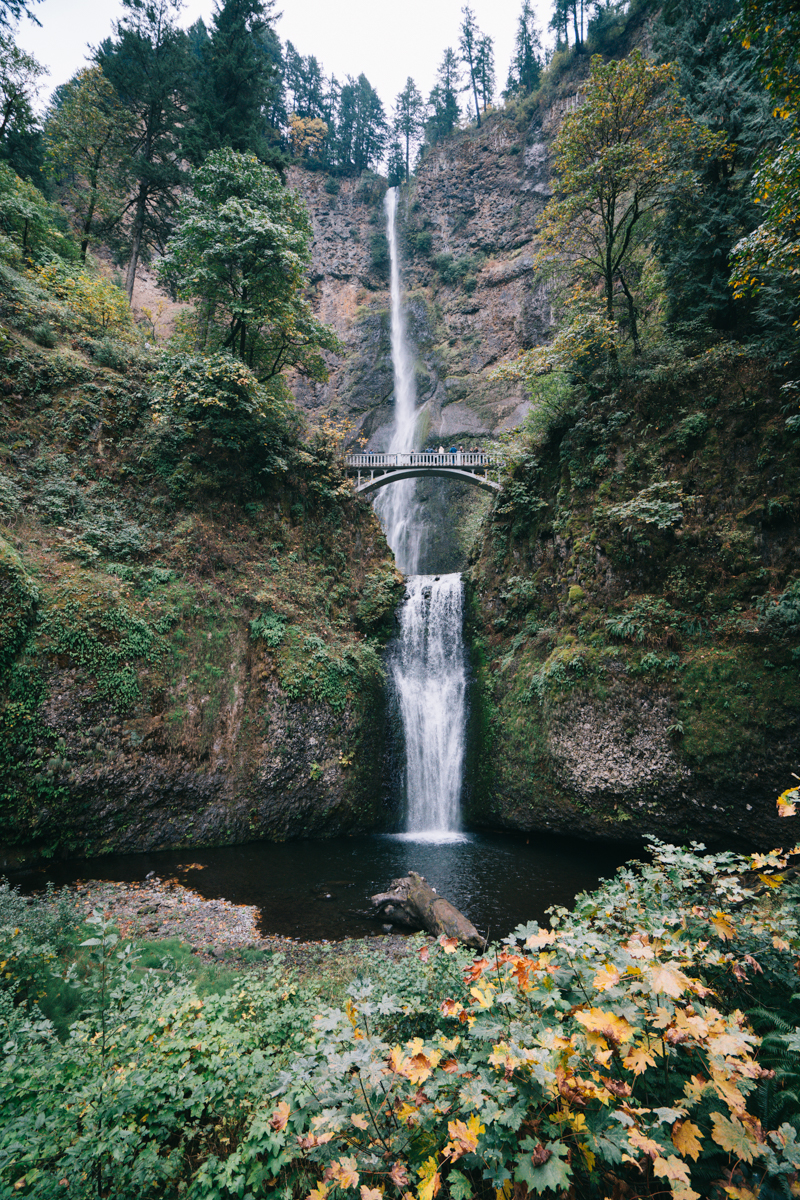 Multnomah Falls:
Fed by underground streams that originate miles above on Larch Mountain, this ancient 620 foot  waterfall is divided into two sections; the upper falls plummets an impressive 542 feet into a pool and again drops 69 feet to form a creek that runs into the Columbia River. Multnomah Falls is the second highest year-round waterfall in the United States and the highest in Oregon, and is Oregon's number one natural attraction, drawing over 2.5 million visitors a year from around the world.  At the base of the waterfall sits the Historic Multnomah Falls Lodge, a full-service day lodge complete with restaurant, gift shop, snack and espresso bar and interpretative center.
Bonneville Fish Hatchery:
The Bonneville Hatchery was originally named "Central Hatchery," was built in 1909 and is the largest of Oregon's 33 hatcheries. The hatchery raises millions of salmon and steelhead annually, from spawned eggs to small fry ready to be released into the wild. The tour will focus on the Sturgeon Center and natural fish ponds, and may include a visit to the Historic Egg Incubation Building, a visitor information center and gift shop. You'll meet "Herman" the sturgeon, the resident 70-year old, 10-foot long, 450 pound prehistoric-era fish in the Sturgeon Center and have the opportunity to feed massive rainbow trout in the natural fish ponds.
Hood River:
The town of Hood River is nestled in a fertile valley of the Columbia River near the base of majestic Mt. Hood. Breathtaking natural beauty and high winds create a paradise for windsurfers, kite boarders and sightseers, where luscious fruit orchards give way to subalpine evergreen forests. You'll learn about the rich history of the area's agricultural and timber industry, and how the town has been more recently transformed into an outdoor recreation destination. Downtown Hood River offers a variety of lunch options to choose from, and affords the opportunity to visit popular boutique shops and wine tasting rooms.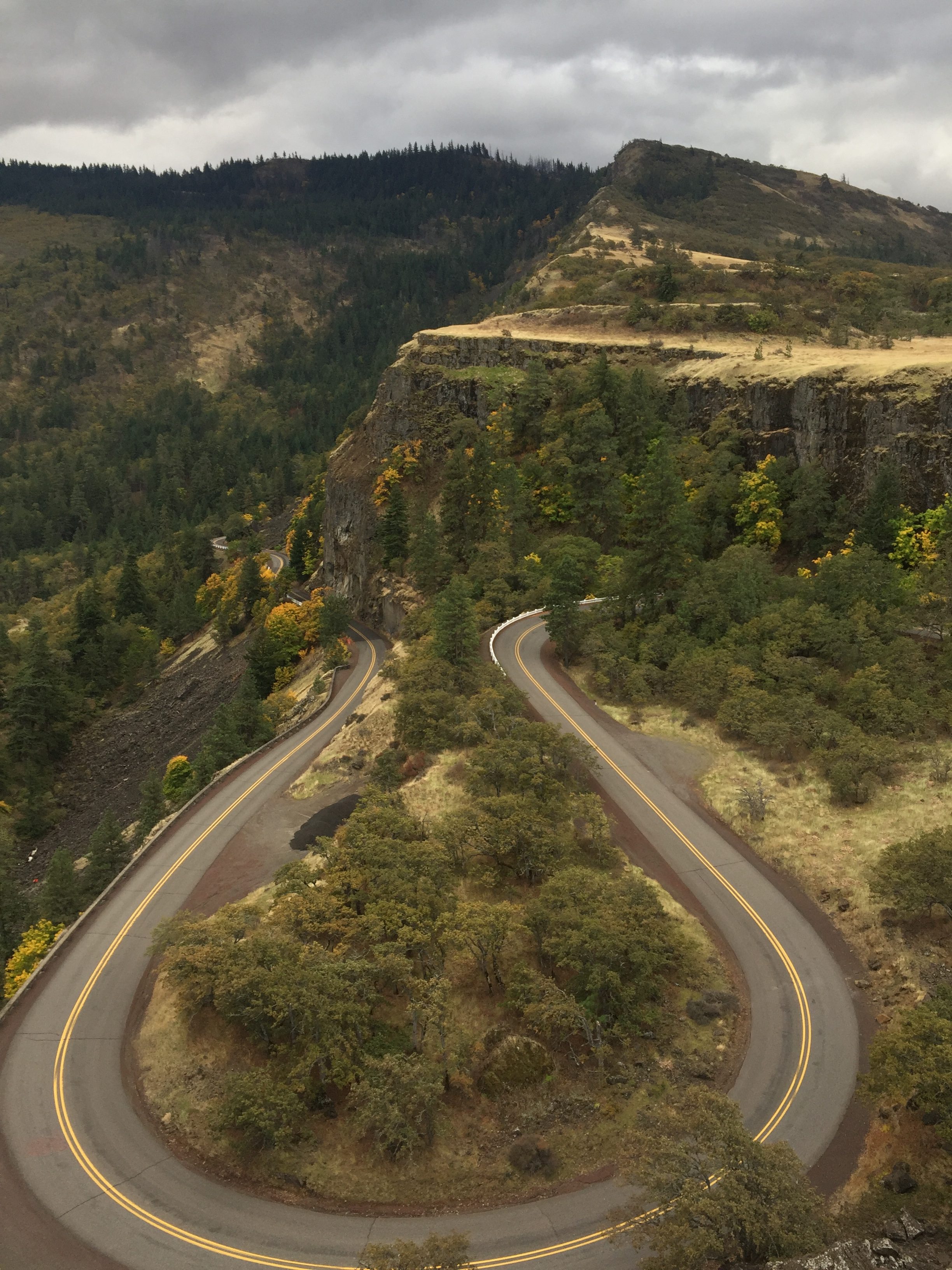 Rowena Crest:
After lunch we'll visit Rowena Crest, for a look into the vastly different landscape that unfolds to the east of the Cascade Mountains. From this elevated vantage point, rugged terrain of the Columbia River Gorge spreads out below, and the sky seems endless. The view at Rowena Crest is complimented by the two-and-a-half mile drive to and from the viewpoint, where eight curves, or loops along the road, provide incredible visual perspectives of the Gorge. You'll see why the combined viewpoint and loops are considered a natural artistic masterpiece. We'll return to the Hood River Valley, and head straight up Mt. Hood. As we climb out of the valley, amazing views of Mt. Hood and Mt. Adams will be available from several points along the drive as we gain elevation.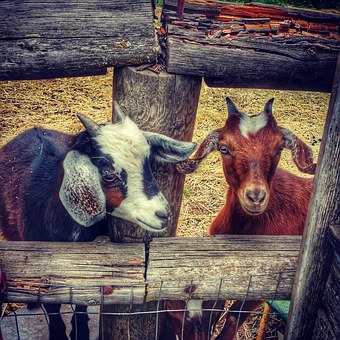 Fruit Stands:
A variety of Hood River County fruit stands are open seasonally, offering an assortment of fruits, vegetables, flowers, fresh fruit pies, jams, syrups, fruit smoothies, and other local produce and hand-crafted artisan gifts. Often referred to as the "Fruit Loop," this section of Hood River County is the world's leading producer of Anjou pears, a short-necked winter pear; the area is also well known for many kinds of apples, pears, cherries, nectarines, and peaches. We'll stop at a fruit stand so that you can sample and purchase many of these farm-fresh delights, or any of the other fruits, vegetables, cheese, juice, wine and agricultural products that they are offering.
Trillium Lake:
In the summertime we'll visit Trillium Lake, a small body of water known for great fishing, camping, hiking, and summer recreation. The route to the lake is part of the Barlow Road, a portion of the original Oregon Trail that once allowed pioneers to travel through marshy land on the last leg of their journey west. The lake is named after the beautiful wildflower that is common to the area, and offers one of the most stunning views of Mt. Hood found anywhere. This spot also provides the unique opportunity to take photographs of the reflection of Mt. Hood off the still waters of Trillium Lake.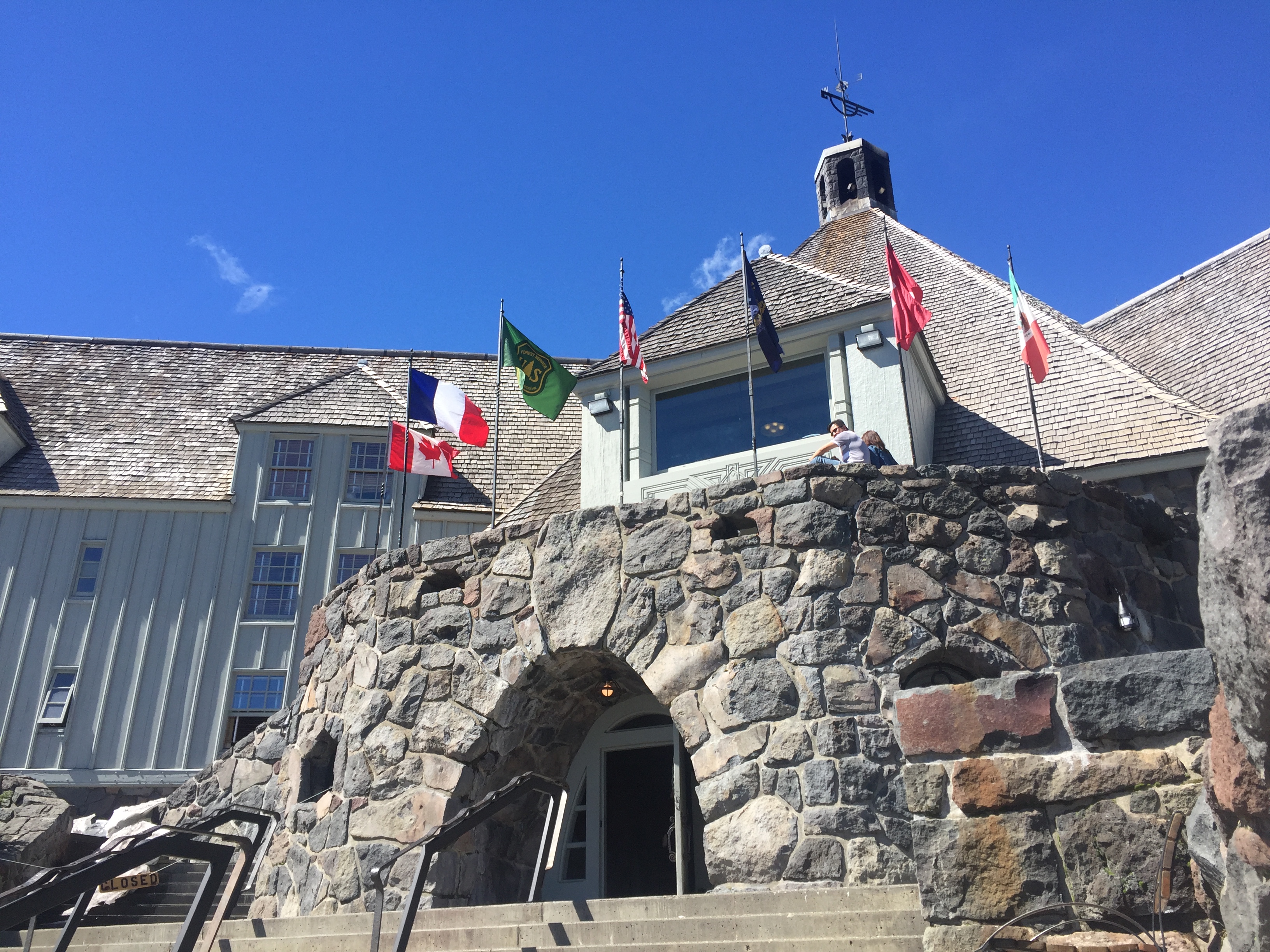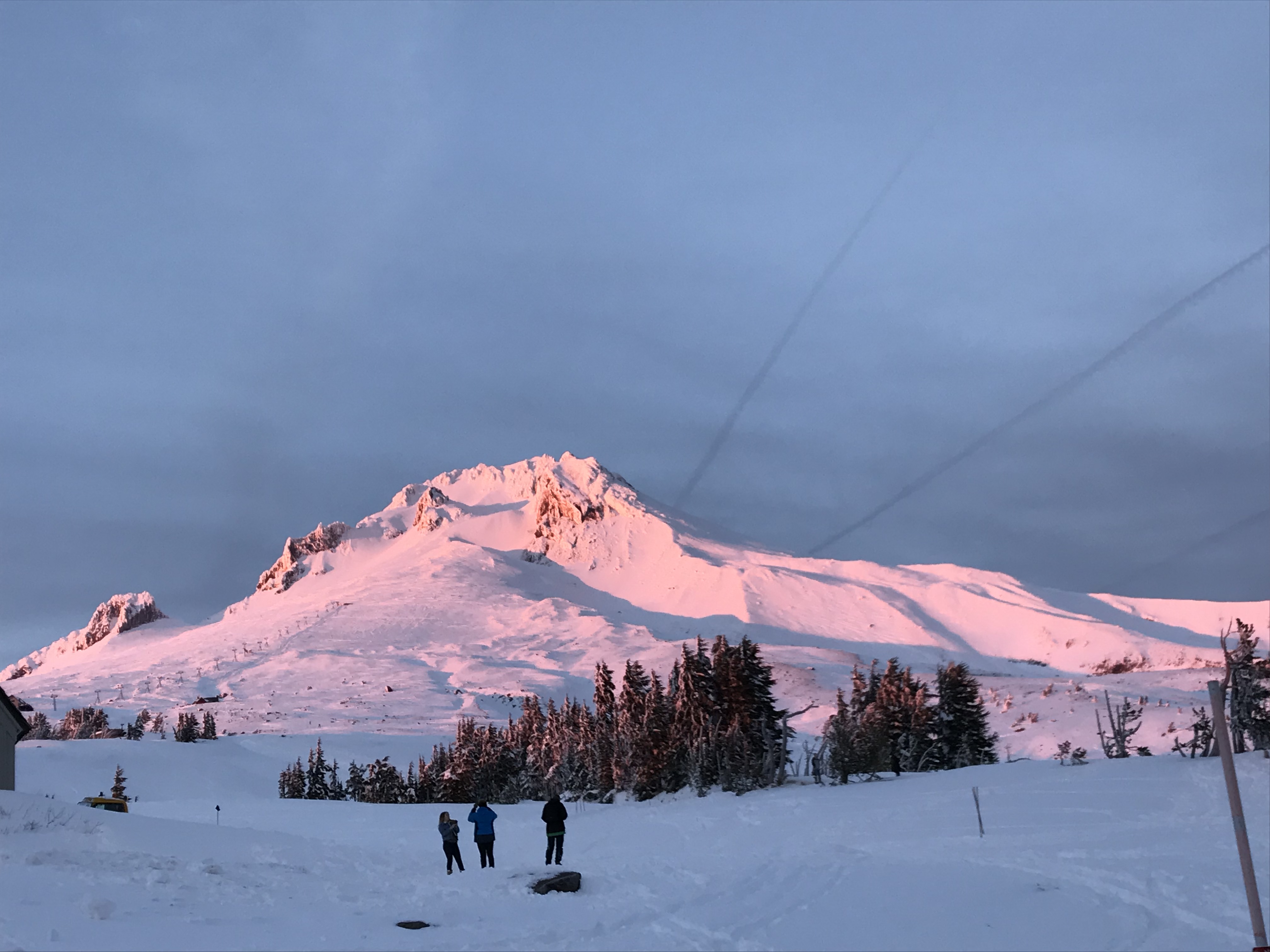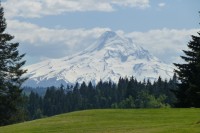 Mt. Hood and Timberline Lodge:
At 11,249 feet, glacier-clad Mt. Hood is Oregon's tallest peak and the 4th highest mountain in the Cascade Range. Surrounded by the Mount Hood National Forest, Mt. Hood contains an abundance of spectacular waterfalls, diverse wildlife and wildflowers, hiking trails, camping sites and many opportunities for winter recreation. Mt. Hood is also nationally known for several alpine ski areas, especially Timberline, which receives so much snow that it has the longest ski season in North America.  Timberline Lodge is the most impressive structure on Mt. Hood, and its artful architecture has astonished visitors for 80 years. The Lodge was built by the Works Progress Administration between 1936 and 1937, and President Franklin Roosevelt personally dedicated the finished construction from a balcony that that you'll pass under as you enter the structure. Much of the art, furniture and interior design of Timberline Lodge exemplifies the rough western flair of the Art Deco period popular in the United States during the 1930s. You'll fall in love with the spacious lobby, restaurant and other grand rooms of the Lodge as we visit all of the areas open to the public.
________________________________________________________________________________
Customized and Private Tours: All tours can easily be customized and/or made private. Please contact us for details and pricing.
Tour Price Includes: Guest pick up and drop off, transportation and tour guide, and all applicable fees, unless otherwise stated.
Not Included in Price: Gratuity and lunch. You will have an opportunity to purchase lunch and/or snacks along the way.
Requirements: Tours require a 2-person minimum for confirmation. Please contact us for current tour times and availability.
Payment: Reservations can be made on-line or by phone with a credit or debit card. Payment will be processed immediately to secure your reservation. Payment on the day of pick up will not guarantee your reservation. Cash payments will be accepted at the time of tour.
Reservations: All reservations are final at time of booking. We recommend two weeks in advance for reservations especially during our high volume seasons. If you are scheduling a tour without prior reservations, please call to confirm departure and availability.
Cancellation Policy: If you cancel at least 7 days in advance of the scheduled departure, there is no cancellation fee.  If you cancel between 3 and 6 days in advance of the scheduled departure, there is a 50 percent cancellation fee.  If you cancel within 2 days of the scheduled departure, there is a 100 percent cancellation fee.
Terms and Conditions:
Other Entities: America's Hub World Tours (AHWT) will not be held responsible for cancelations, changes to services/fees/price, conduct, of quality of goods and services for entities that operate under any name other than AHWT including, but not limited to: vendors, tour operators, vineyards and wineries, event staff, hotels, transportation companies, restaurants and entertainers.
Weather: Unless otherwise noted and specified all services are planned to operate regardless of weather. In the event of an "Act of God" and weather presents a safety issue AHWT will offer other tours to consider. There will be no reimbursements, full or partial, for inclement weather experienced during any service provided. It is the responsibility of the guests to be prepared for predicted weather and dress accordingly.
III. Conduct: AHWT assumes no responsibility for conduct of individuals other than its guides/employees/officers.
Indemnify: Except as otherwise prohibited by law each party shall indemnify and hold the other party harmless from all claims, actions, suits, losses, and expenses of any nature for its employees or subcontractors, breach of their agreement, negligence or intentional misconduct.
Insurance: America's Hub World Tours (AHWT), will ensure all tour operators and bus companies provide insurance coverage for all vehicles utilized while providing services.
No smoking or consumption of alcohol or intoxicating drugs is allowed in vehicles. America's Hub World Tours (AHWT) is not responsible for articles left in vehicles. A $200 minimum damage/cleaning fee resulting from customer misuse will be automatically charged. All passengers are responsible and liable for their own actions while in vehicles; neither the driver nor the company is responsible or liable for any injury or damage caused by, or as a result of any customer actions. America's Hub World Tours (AHWT) is not in control of traffic, and therefore takes no responsibility for time delays due to traffic.
The State of Oregon requires that all parents with children requiring car seats must use them. Minor-age passengers must be restrained in approved child safety seats until they weigh forty pounds or reach the maximum weight limit for the car seat in use. Infants must ride rear-facing until they reach both one year of age AND weigh at least twenty pounds. America's Hub World Tours (AHWT) does not supply car seats; if you did not bring one, your hotel may be able to recommend rental locations, and some locations will deliver to hotels.
For more information regarding the many other tours we offer please visit us at: http://www.americashubworldtours.com