Tour season: March-early October
Departure: Customized dates for private groups
Duration: 12 days/11 nights (Require minimum 8 people to run the tour)
Pricing:
8-12 people: $4201.00 per person
14-24 people: $4081.00 per person
26+ people:$3402.00 per person
Includes: Double occupancy rooms, transportation, guide/driver, and listed meals
Contact us for tour prices that include an interpreter.
Itinerary:
Day 1: Arrive Seattle Airport (group dinner)
Upon your arrival in Seattle, you can check in the host hotel (included in the package) and spend the rest of the day on your own.
Note: For group (20 or more) needing special arrangement with airport transfers contact us directly for assistance.
Overnight in Seattle, WA
DAY 2:  Seattle – Ferry to Bainbridge Island – Port Angeles (lunch and dinner on own)
We will visit Seattle City Center and visit the Observation Deck at the Space Needle.  At 520 feet, nothing blocks you from a 360 degree panorama of the Emerald City. Mountain ranges covered in Douglas Firs. Elliott Bay's bustling waterfront. The lights of downtown Seattle. Mt Rainier, ever-present from afar.  

We will then walk to Chihuly Garden and Glass. The centerpiece of Chihuly Garden and Glass is the Glasshouse. A 40-foot tall, glass and steel structure covering 4,500 square feet of light-filled space, the Glasshouse is the result of Chihuly's lifelong appreciation for conservatories. The installation in the Glasshouse is an expansive 100-foot long sculpture in a color palette of reds, oranges, yellows and amber. Made of many individual elements, it is one of Chihuly's largest suspended sculptures. The perception of the artwork varies greatly with natural light and as the day fades into night. There are also  eight galleries and three Drawing Walls that offer a comprehensive collection of Dale Chihuly's significant series of work, along with a garden and theater.

Our tour will also visit the famous Pike Place Market for some free time to shop, eat, explore, and catch a glimpse of the fish mongers throwing giant fish across the room!

We will take a 35 minute ferry trip across Elliott Bay to Bainbridge Island. The view of the city skyline from the ferry deck is fantastic and the island itself has a lot to offer.
Overnight Port Angeles, WA
DAY 3: Seattle – Olympic National Park – Olympia (group lunch, dinner on own)
Originally established as a national monument in 1909, the area was re-designated Olympic National Park by President Franklin Roosevelt in 1938. In 1976, it became an International Biosphere Reserve, and in 1981 was designated a World Heritage Site.

Covering nearly one million acres, Olympic National Park provides three distinct ecosystems—glaciated mountains, rugged Pacific coastline, and lush temperate forests—and their distinct flora and fauna for nature-lovers to explore. Over 95% of the park is designated wilderness, protecting one of the largest wilderness areas in the lower 48, giving visitors the opportunity to experience remoteness and pristine nature in a way that few other places can.

The diverse forest communities making up the park provide homes to everything from acid-loving wild cranberry bushes to giant spruce trees, hundreds of years old.

The neighboring ecosystems give visitors of Olympic National Park an opportunity to see sea otters, whales, beavers, bears, rhinoceros auklets, golden eagles, and more. The park is also home to endemic species like the Olympic marmot and the Olympic torrent salamander that can be found nowhere else in the world.
Overnight Olympia, WA
DAY 4:  Olympia – Mt Rainier National Park – Portland (group lunch, dinner on own)
Mount Rainier is the most glaciated peak in the contiguous U.S.A., spawning six major rivers. Sub-alpine wildflower meadows ring the icy volcano while ancient forest cloaks Mount Rainier's lower slopes. Wildlife abounds in the park's ecosystems.

We will visit Paradise while at Mt. Rainier.  This area is famous for its glorious view and wildflower meadows.  We will stop at the Paradise Visitor Center, where you will be able to learn more about the ecosystem of the park and the parks history.  
Overnight Portland, OR
DAY 5: Portland – Woodburn Premium Outlets – Portland (lunch and dinner on own)
Woodburn Premium Outlets is the top destination for tax-free outlet shopping. It features 110 stores including Adidas, Banana Republic, Gap, Nike, The North Face, and more all at savings of 25% to 65% every day. Designer name brands, skylight-covered walkways, and beautiful Northwest architecture and landscaping make this a unique and fun shopping experience year round. This is a great place to stop and shop, especially since Oregon has no sales tax!
Optional: Portland City Tour
Overnight Portland, OR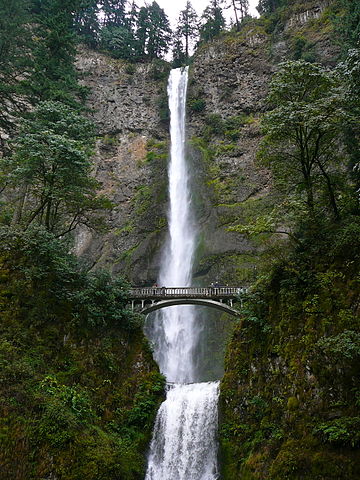 DAY 6:  Portland – Columbia River Gorge National Scenic Area- Bend (lunch and dinner on own)
We don't just drive by the waterfalls! We stop and allow you to get out and up close. We start along the Historic Columbia River Highway. Some of the locations we will visit include Portland Women's Forum, Crown Point Vista House, Latourell Falls, Bridal Veil Falls, Multnomah Falls and Horsetail Falls. Stops may include:
Crown Point Vista House: 

Best known of the scenic lookouts along the Historic Columbia River Highway, providing a panoramic view of the Columbia River. Crown Point Vista House

was built in 1916 and refurbished and completely remodeled in 2005. It has a beautiful marble interior and brass fixtures. Find out why it is known as the crown jewel of the Columbia River Gorge!
Latourell Falls: 

Plunges 249 feet (76 m) over a massive wall of columnar basalt – some of the best formations in the Pacific Northwest – before cascading hastily towards the Columbia River. This waterfall is usually most recognized for the large patch of bright yellow lichen adorning the cliff face to the right of the falls, and this characteristic has led many famous photographers to this captivating location. If you stand in just the right place, and look way up, behind the falls you see another waterfall!
Multnomah Falls: 

The second highest year-round waterfall in the United States. Nearly four million visitors a year come to see this ancient waterfall, making it Oregon's number one public destination. Fed by underground springs from Larch Mountain, the flow over the falls varies but is highest during winter and spring.
Horsetail Falls: 

Horsetail Falls was named for its distinctive form and plunges 176 feet. The trail leads to Upper Horsetail Falls, also called Ponytail Falls. There the trail leads behind the base of the waterfall. Horsetail Falls is a great opportunity to stop and take some photos or simply enjoy the beauty of the surrounding area.
Overnight Bend, OR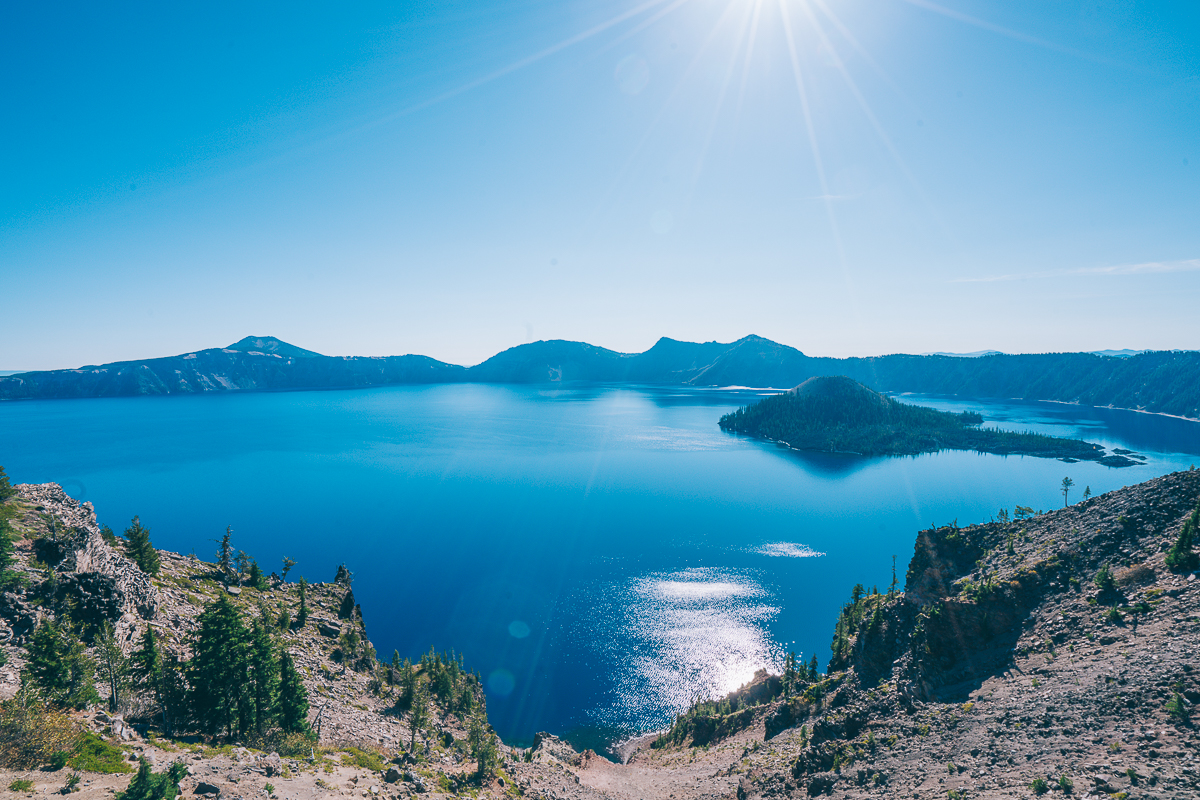 DAY 7:  Bend  – Crater Lake National Park – Medford (group lunch, dinner on own)
At Crater Lake National Park you can see what a wonder the world really is. The water is so blue, so deep, it's no surprise it's the deepest lake in America, and one of the deepest on earth. That's why it's one of the 7 Wonders of Oregon. We will see the lake from Rim Drive and have plenty of opportunities to take amazing pictures!  We will have lunch at Rim Village, and you will have the opportunity here to take a short walk along the edge of the lake for more views and photos!
Overnight Medford, OR
DAY 8: Medford – Crescent City– Redwood National Park – Eureka (group lunch, dinner on own)
Most people know Redwood as home to the tallest trees on Earth. The parks also protect vast prairies, oak woodlands, wild riverways, and nearly 40 miles of rugged coastline.  For thousands of years people have lived in this verdant landscape.  Together, the National Park Service and California State Parks manage these lands for the inspiration, enjoyment, and education of all.
Overnight Eureka, CA
DAY 9: Eureka – Avenue of the Giants – Sacramento – Napa Valley (group lunch, dinner on own)
This world-famous scenic drive is a 31-mile portion of old Highway 101, which parallels Freeway 101 with its 51,222 acres of redwood groves. It is by far the most outstanding display of these giant trees in the entire 500 mile redwood belt. The Avenue of the Giants is surrounded by Humboldt Redwoods State Park which has the largest remaining stand of virgin redwoods in the world.

Optional: Skunk Train excursion

Forty miles of railroad run through majestic redwood forests, scenic mountain meadows, and over 30 trestles bridging the pristine mountain waters of Northern California.
Overnight Fairfield, CA
DAY 10:  Napa Valley – Napa Valley Wine Train – San Francisco (group lunch, dinner on own)
Journey back in time as you traverse the Napa Valley to a bygone era of luxury, class, and nostalgic train travel. Relax, and enjoy a freshly prepared, multiple course gourmet meal and watch the Napa Valley scenery leisurely pass by from your seat. Their collection of vintage railcars have been fully restored to the splendor of their historic potential with Honduran mahogany and brass accents.  The antique Train has three on board kitchens, where a  passionate culinary team prepares fresh, California cuisine, cooked to order for each guest.
Optional: Jelly Belly Candy Company 

Free self-guided tours allow you to explore the ¼ mile journey above the factory at your own pace, enjoying the all-new look at their candy making.
Interactive exhibits and games along the tour lane
Free samples
Browse the Jelly Belly Jelly Bean Art Gallery
Shop the Jelly Belly Candy Store
Dine at the Jelly Belly Café
Shop the Jelly Belly Chocolate Shoppe and Fudge Counter

Optional: Anheuser-Busch Brewery Tour

Hear the story of Anheuser-Busch and learn more about what it takes to brew their beers during your tour of the Fairfield Brewery. On your tour, which runs on the hour, you will observe the art of brewing as you follow the making of Budweiser through the 7 Steps of the Brewing Process. At the beginning of the tour, those 21+ will have an opportunity to taste some of our quality beers in the Hospitality Room.  You will also have the chance to sample them when we return to the Hospitality Room.
DAY 11: Explore San Francisco (lunch on own, group dinner)
After breakfast, we will head to San Francisco and spend the whole day seeing the must-see-attractions…
Silicon Valley:  

This region is home to many of the world's largest technology companies including Apple, Cisco, Google, HP, Intel and Oracle. The term originally referred to the region's large number of silicon chip innovators and manufacturers, but eventually came to refer to all the high-tech businesses in the area; it is now generally used as a metonym for the American high-tech sector. Despite the development of other high-tech economic centers throughout the United States and the world, Silicon Valley continues to be the leading hub for high-tech innovation and development, accounting for 1/3 of all of the venture capital investment in the United States.

Intel Museum

Go behind the scenes in the high-tech world of California's famed Silicon Valley. See what it's like inside an ultra-clean, highly automated silicon chip factory, and connect with technologies that give us new ways to work, learn, play, and communicate. The Intel Museum is 10,000 square feet of fun, interactive learning for children and adults.

Golden Gate bridge:  

Once called "the bridge that couldn't be built," today it is one the seven wonders of the modern world. This magnificent span, perhaps San Francisco's most famous landmark, opened in 1937 after a four-year struggle against relentless winds, fog, rock and treacherous tides.   The single-suspension span is anchored by twin towers that reach skyward 746 feet, and was once taller than any building in San Francisco. To support the suspended roadway, two cables, each more than 7,000 feet in length and both containing 80,000 miles of wire stretch over the top of the towers and are rooted in concrete anchorages on shore.

Fisherman's Wharf: 

San Franciscos #1 tourist destination! Rich maritime history comes alive as you encounter local fishermen, catch a cruise along the waterfront, or explore the sights at historic piers.

Westfield San Francisco Centre:  

An architectural marvel located just steps from famed Union Square, Westfield San Francisco Centre has emerged as one of the most exciting downtown retail venues in the United States.  Featuring the West Coast flagship Bloomingdale's, the second largest Nordstrom in the nation, a Burke Williams Day Spa and Century Theatres, this destination is home to 200 favorite brands including Burberry, Tiffany & Co., Tory Burch, Michael Kors, Kate Spade, J.Crew and Zara.  Award-winning cuisine within the Restaurant Collection Under the Dome includes M.Y. China and Tap 415.  Also underneath the property's historic dome, Westfield San Francisco Centre has unveiled BESPOKE – a coworking, technology, demo and event space perfectly suited to San Francisco's culture of innovation.
Overnight in San Francisco, CA
Day 12: Depart San Francisco
Free time to explore San Francisco until your flight departs.
Click here for Terms & Conditions