Duration: 8:30 am until 5:30 pm; daily; year-round
Pricing: 
1: $675 per person
2: $520 per person
3: $365 per person
4: $210 per person
Pick Up Locations: Select downtown Portland hotels.  Click here for a list of many hotels we pick up at.
Experience the most popular tour of Portland and the Columbia River Gorge available anywhere! Join us for a comprehensive introduction to the City of Portland and the Columbia Gorge National Scenic Area, which includes detailed visits, magnificent views and concise information of the area's best attractions. The tour combines some of the most iconic and unique places in Portland  with the natural beauty and splendor of the waterfalls, scenic vistas, and historical sites in the Columbia River Gorge.
Portland City Tour Overview
More than just a basic Portland city tour, our half-day Portland City Tour will reveal the laid-back small city feel of this fun and thriving downtown. You will experience the best Portland sites including the International Rose Garden, Pioneer Courthouse Square, NW 23rd (the best shopping area in Portland), the Pearl District, the South Park Blocks, the PSU Farmers Market (on Saturday AM tour only), and N. Mississippi (on all other AM and all PM tours).
Today Portland is known as one of the world's most environmentally conscious cities: a hub for farm-to-table eateries, alternative lifestyles, a large community of cyclists, and high walkability.   Let our informative and entertaining Tour Guides show you the best the City of Portland has to offer.
Pioneer Courthouse Square
Learn about the modern heart of the city, Portland's downtown, and the historical importance it has played in the state's history. Enjoy the sights of Pioneer Courthouse Square, fondly referred to as Portland's Living Room. This community space opened in 1984, and has become the center of the city's social activity with over 300-programmed event days. Pioneer Square is the perfect spot for people-watching and observing Portland culture at its best: everything from fresh-food markets to beer festivals to political protests to the city's largest community sing-along.
International Rose Test Garden
Let the fragrance of our Rose Gardens embrace your senses with over 600 roses and be delighted with the beautiful Washington Park nature, featuring some of the most amazing  city & mountain views around.
More than 10,000 individual rose bushes bloom in the International Rose Test Garden from late May through October, representing over 610 different rose varieties. The majority of roses in the Garden are commercially available. About 10 to 20 varieties are replaced each year with some of the best new roses released onto the market. We will visit the rose garden seasonally.
NW 23rd Avenue
This avenue is the heart of the Nob Hill District and is filled with century-old Victorian and Craftsman-style storefronts housing unique boutiques alongside national retailers, interspersed with coffee shops and on-trend restaurants and bars. In short, it's a shopper's and diners paradise.
Pearl District
Portland's Pearl District is the realization of a big dream. What was once a largely abandoned industrial district is now one of the most vibrant neighborhoods in the city.  Scattered throughout, you will find cobblestone streets, loading docks, and lofty buildings that offer a glimpse into the district's grittier past. It is an urban renaissance with its own unique blend of artistry and productivity.
South Park Blocks
This is one of Portland's oldest and most popular parks. This 12-block greenspace stretches north from the campus of Portland State University, serving as a front yard for residents and businesses of the Cultural District. The park hosts vibrant community events and programs for Portlanders and regional visitors throughout the year.
PSU Farmers Market (We will stop here on Saturday Morning Portland City Tour)
The PSU Farmers Market is a world-class farmers market that contributes to the success of local food growers and producers, and creates a vibrant community gathering space.  The Portland Farmers Market at Portland State is large, spanning almost three blocks throughout the Portland State University campus. This means there is no shortage of vendors for the whole family to love. The options of where to buy and eat are truly endless at this market. They even have a Veggie Valet for shoppers to leave their bulk purchases while they finish up shopping! The market also has musicians and a Chef in the Market series which is a showcasing of cooking with seasonal marketing ingredients from local chefs.   The PSU Farmers Market will only be visited on our Saturday Morning Portland City Tour and you will have time to walk around and explore the market.
N. Mississippi Avenue (We will stop here on Monday-Friday & Sunday AM tours & all Afternoon Portland City Tours)
North Mississippi Avenue features a long stretch of vibrant shops, unique bars, music venues and restaurants (and is only a half-mile away from even more acclaimed eateries and bars on up-and-coming North Williams Avenue). This location will be visited on the Monday-Friday & Sunday morning Portland City Tours, and all Afternoon Portland City Tours and you will have time to walk around and explore this area.
Columbia River Gorge Waterfalls:
   The great ice age Lake Missoula Flood left scars literally from Montana to the Pacific Ocean. Join us as we explore the waterfalls, photographs, and our tour guides share research uncovering the effects of the Lake Missoula Flood in Northwest Oregon & Southwest Washington.
We journey along the Historic Columbia River Highway. Some of the locations we will stop may include: Portland Women's Forum, Crown Point Vista House, Latourell Falls, Bridal Veil Falls, Multnomah Falls, and Horsetail Falls.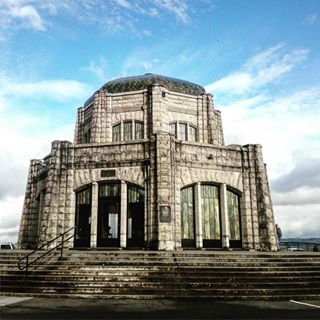 Crowne Point Vista House:
Perched atop one of the most panoramic overlooks in the Columbia River Gorge, Vista House provides the most majestic view of the Gorge. Often referred to as "The Crown Jewel of the Columbia River Gorge," Vista House was built between 1916 and 1918 as a memorial to Oregon pioneers, a scenic viewpoint, and a comfort station for those traveling on the newly constructed Historic Columbia River Highway. The Vista House and the view it offers are sure to amaze and inspire you.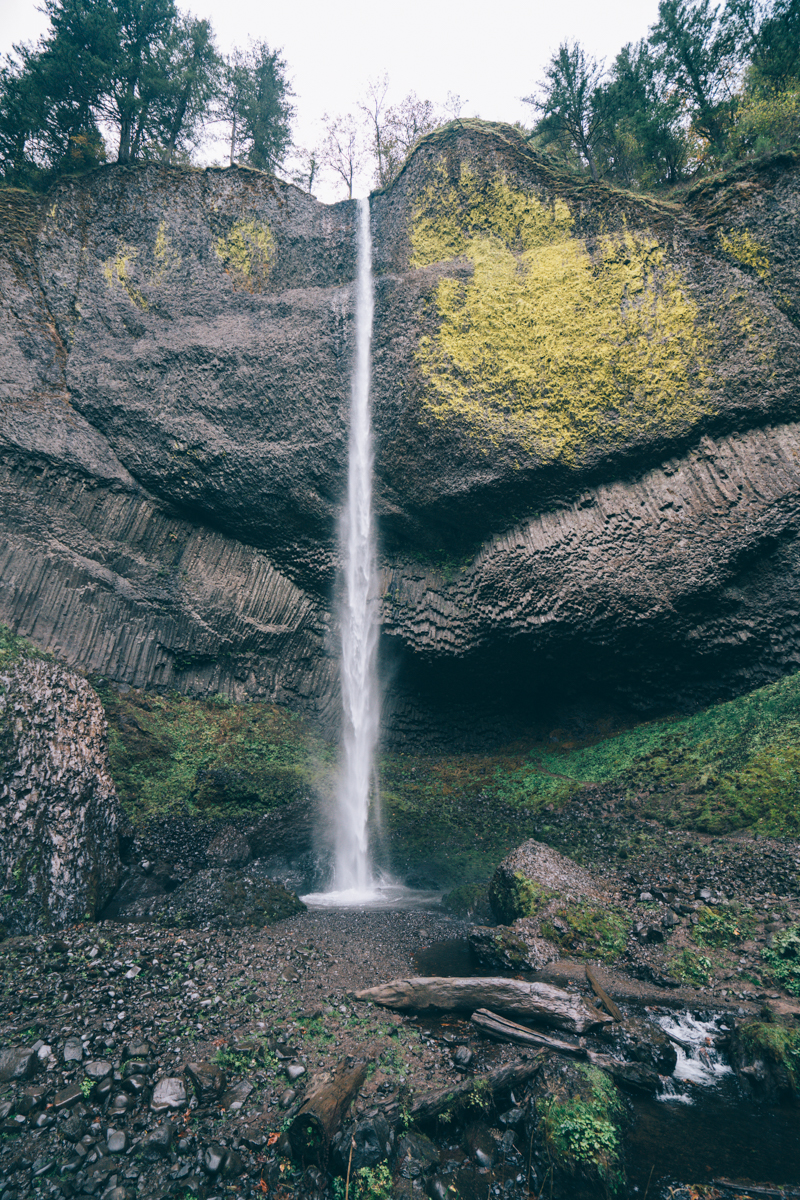 Latourell Falls:
This dazzling waterfall plunges 249 feet (76 m) over a massive wall of basalt and then rushes through the forest into the Columbia River. The falling water of Latourell is framed by some of the most perfect columnar basalt formations in the Pacific Northwest that are adorned with a large florescent patch of yellow lichen and shrouded in brilliant green flora. We'll venture down to the punch-bowl pool below the falls, where you'll hear the tremendous rush of water and feel the cool mist that it creates. You'll easily realize why this special place is one of the most photographed waterfalls in Oregon.
   Multnomah Falls:
Fed by underground streams that originate miles above on Larch Mountain, this ancient 620 foot (189 m) waterfall is divided into two sections; the upper falls plummets an impressive 542 feet into a pool and again drops 69 feet to form a creek that runs into the Columbia River. Multnomah Falls is the second highest year-round waterfall in the United States and the highest in Oregon, and is Oregon's number one natural attraction, drawing over 2.5 million visitors a year from around the world. At the base of the waterfall sits the Historic Multnomah Falls Lodge, a full-service day lodge complete with restaurant, gift shop, snack and espresso bar and interpretative center.
Return to Portland
Click here for Terms & Conditions