Welcome to the Pacific Northwest!
[checkfront style="color: #fff" item_id="51″ category_id="1″ options=hidesearch]
From Seattle to San Francisco explore the majestic Pacific Northwest on this 11- day adventure. This 11- day coastal tour starts in Seattle, with a tour of the city and most featured attractions like the famous Space Needle , Pikes Place Market, Waterfront, Ballard Locks and more.
After spending the night in this beautiful city we head south with a visit to Mount St Helens and look right into the crater for a close up view of the volcano known for it's massive 1980's eruption. The day will end in Portland, Oregon for a 3-days to take in Oregon's Agricultural Heartland, situated on Portland's front doorstep and all the area attractions. Including the International Rose Garden, Pittock Mansion, Columbia River Gorge National Scenic area, Mt Hood & Historic Timberline Lodge, Willamette Valley Wine Country and an elegant dinner cruise on the Willamette River and experience Portland's dazzling city sights and city lights.
The next several days finds us driving south along the scenic coast highway 101 through Oregon & California, stopping at several coastal towns for visits to lighthouses, dunes, fishing villages, bridges, beaches, museums, aquariums, coastal headlands and overlooks, sea lions caves, California Redwood Forest, Avenue of the Giants, more wine tasting in CA, cross the Golden Gate Bridge and discover the "City by the Bay," San Francisco!
We end our travels in San Francisco for a few nights to experience this International cities allure.
Day 1- Breakfast and Lunch Included
Welcome to Seattle, Washington – You will be met by your personal tour guide:
Your scenic tour through the Pacific Northwest begins with one of America's most picturesque cities, Seattle.
On our Seattle City Tour you will discover Seattle's one-of-a-kind attractions — like Pike Place Market, the Space Needle (built for the 1962 World's Fair), and the Experience Music Project. Then we travel to the Ballard Locks, neighborhoods, viewpoints along the Puget Sound and more. Dozens of museums and hundreds of galleries reflect the city's unique cultural vision. Discover Native American, Maritime and Pioneer history while taking in views of Puget Sound and nearby mountain ranges.
Your evening is free to explore more or simply rest in your downtown hotel.
Day 2- Breakfast, lunch, and dinner included
Seattle – Mt St Helens – Portland (overnight Portland)
After breakfast we head south to Portland with a stop to see Mt St Helens. We will visit Johnston Ridge visitor centers to learn about the history, events and recovery of this unforgettable 1980 event!
•Movie – "Message from the Mountain" eruption movie.
•Interpretive Talk/Displays – portray the sequence of geologic events that transformed the landscape and opened up a new era in the science of monitoring an active volcano and forecasting eruptions.
•Closest View to Mount St. Helens – Visitors can expect to see views of the lava dome, crater, pumice plain, and the landslide deposit.
•US Forest Service Staff educational talks
Upon our arrival in Portland, we will commence right into a Portland city tour including the infamous International Rose Garden, Nob Hill and shop.
After dinner you will have the evening free to wander downtown Portland in this lively, walking friendly city
Day 3- Breakfast, lunch, and dinner included
Portland – Multnomah Falls – Gorge Waterfalls – Mt Hood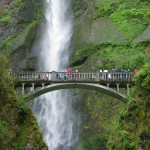 Explore the Columbia River Gorge and stand in awe of the second highest year-round waterfall in the United States! You will enjoy spectacular views of many waterfalls along the Historic Columbia River Highway. We don't just drive by you out and up close to the waterfalls. As well as touring many of the other wonderful sites along the Columbia Gorge including Crown Point Vista House, Latourell Falls, Bridalveil Falls, Wahkeena Falls, Multnomah Falls and Horse Tail Falls
Next we take you to a charming Historic town for lunch and shopping opportunities in Hood River. After lunch enjoy wine tasting at one the premier vineyard in the Hood River AVA.
We finish the afternoon with breathtaking views of Mt Hood with a visit at a National Historic Landmark, Timberline Lodge.
Return to Portland for a moment to freshen up and relax before dinner at another Portland featured restaurant.
Day 4 – Breakfast, lunch, and dinner included
Portland to Mt. Hood Territory Farm Tour
It's "Come as You Are" on this excursion into Oregon's agricultural heartland, situated on Portland's front doorstep – just about 30 minutes from the city center. If you've ever wanted to walk side-by-side with an alpaca, sit on a hay bale or maybe even hitch a ride on a tractor, this is the day for you.
Walk into a simpler way of life when you meet charming host farmers, Rachel and Evan of Boondockers Farm. Specializing in rare heritage poultry and heirloom seeds, these young bucks love to show city folks how old farming ways are alive and well in the Pacific Northwest.
Next visit Rosse Posse Acres Elk Ranch, featuring Roosevelt and Rocky Mountain elk. Stand nose to nose with this impressive herd on a picturesque ranch with Mt. Hood as the backdrop. The Ross Family invites you to "See Their (elk!) Racks" in the big barn as you learn all about these mighty beasts.
Enter the world of huacaya alpacas as you walk through the pastures of meticulously-groomed Marquam Hill Ranch. Run your fingers through the soft cashmere-grade royal alpaca fleeces, lead the one of the comical-looking critters on a leisurely walk around the ranch, or learn to hand-spin some of the fine wool while sitting on the porch.
Top off your tour with a hand-crafted red velvet truffle at Puddin' River Chocolates, located on a charming Main Street in the tiny town of Canby, Oregon.
Day 5
Portland to Washington County Farm Tour
We start with a drive through Washington Park. Next, we have a selection of agricultural options for your group in our area. Below is a list of ideas for you. We have a selection of agricultural options for your group in our area. Below is a list of ideas for you.
Al's Garden Center
Description:
Al's Garden Center in Sherwood is a 10.5-acre, state-of-the-art garden center filled with the highest quality locally-grown plants, garden tools and supplies. A unique retractable roof the size of a football field allows shoppers to stay dry and comfortable no matter the weather. You will also find a large selection of garden accessories, including outdoor containers, furniture, statuary and wrought iron. Al's gift department is filled with unique gifts, many made locally. Demonstrations and special events make Al's a truly unique destination.
Smith Berry Barn
Description:
Smith Berry Barn is a destination farm and garden market featuring the very best of Oregon's bounty. Seasonal offerings include U-pick berries, farm fresh fruits and vegetables, specialty herbs and perennials, hanging baskets and more. The historic barn is filled with gourmet foods, distinctive gifts, an espresso bar and milkshakes made with fruit fresh from the farm.
Tillamook Forest Center
Description:
Experience the region's largest interpretive and educational center showcasing the legacy of the historic Tillamook Burn and the public spirit behind a monumental reforestation effort that's part of Oregon's history. Visitors are invited to discover lessons of the past, present and future at this dynamic facility with hands-on learning opportunities, and develop a deeper connection with Oregon's forests through experience and exploration – for free. Guests can climb the fire tower, walk on the suspension bridge, explore the forest center and walk on the outdoor paths. Note that the Center is typically closed from late November through late February.
Quail Run Creamery
Description:
Quail Run Creamery is a small, sustainable, family-owned and operated farm in the foothills of Gaston. Their chevre and aged cheeses are crafted from the rich milk of Nigerian Dwarf dairy goats. Tours, tastings, goat cheese-making classes and pizza made in the wood fired pizza oven are available by appointment.
Day 6- Breakfast, lunch, and dinner included
Depart Portland for Cannon Beach (Overnight Florence)
En route to Cannon Beach we will stop at Heart2HeartFarms supports and encourages a natural, heritage, sustainable way of life. They believe in providing for everyone, regardless of income level, access to natural, pure, nutritious foods. With these values in mind, Heart2HeartFarms has created a thriving, local community of experts who share knowledge, experience, and "trade secrets" openly pertaining to raising, breeding, growing /processing foods, making herbal remedies, and crafting homemade soaps.
Some of the opportunities available to groups are: learning from the farmer how to harvest many forms of Heritage livestock, including rabbits, calves, and turkeys; lectures on sustainability and PermaCulture.
Then we head to Cannon Beach for free time to enjoy this "Carmel CA" like town and walk the beach. Visit Haystack Rock designated as a Marine Sanctuary. On our way south down Coast Highway 101, we will see dramatic cliff side views of the beautiful Pacific Ocean.
Day 7- Breakfast, lunch, and dinner included
Depart Cannon Beach for Florence (Overnight Florence)
The next morning on our way to Newport OR, former home of Keiko the whale and visit our 1st Oregon Coast Lighthouse, Yaquina Head & Outstanding Natural Area. Then enjoy lunch in one of the numerous restaurants along the Old Town Newport waterfront bay.
"The 93 foot tower, Oregon's tallest, is located on a narrow point of land jutting due west into the Pacific Ocean north of Newport, at Yaquina Head Outstanding Natural Area. Winds and rain have buffeted this lighthouse since its beginning in 1872. It took approximately one year, and over 370,000 bricks to construct Oregon's tallest lighthouse."
Oregon's coast hwy 101 offers spectacular viewing of the dramatic cliffs and beaches all the way to Florence Oregon, an inland town on the Siuslaw River known for the rich forestry and fishing history. But before we arrive, we will stop at one more of Oregon's dramatic Lighthouses, Heceta Head, known as Oregon's most photographed lighthouse.
Day 8- Breakfast, lunch, and dinner included
Depart Florence for Gold Beach OR (Overnight Gold Beach)
This morning we will set off for an adventure unlike no other! Dune buggy ride on the Oregon Dunes for views only your imagination thought possible. From Florence to Coos Bay, the Oregon Dunes National Recreation Area extends for 40 miles along the Oregon Coast. Formed by the ancient forces of wind, water and time, these dunes are like no others in the world.
Your afternoon coast hwy drive heads inland a ways then brings us to the town of Coos Bay where we will have lunch and visit a Myrtlewood factory and store. This is the rare opportunity to bring home gifts of the Oregon Myrtlewood. The Myrtlewood Tree is unique to two places in the world – The Holy Land and a small section of the Pacific Northwest along the Central Oregon Coast."
Continuing down the coast takes us to the Costal Town of Bandon, home to Ocean Spray Cranberries and Bandon golf courses honored as the "Best New Public Course in America" in 1993 and premier courses in the Northwest
Free time to walk along Bandon's beaches known as some of the
most beautiful in Oregon!
Day 9- Breakfast, lunch, and dinner included
Depart Gold Beach for Coastal Redwoods (Overnight Eureka CA)
Our morning will start with an amazing scenic ride up the Rogue River on a jetboat still used today to deliver the mail up the river. The unmatched scenery and wildlife viewing will take your breath away.
The amazingly beautiful coastal drive is not over! After lunch we continue on hwy 101, to the Oregon – California border to visit the Jedediah Smith Redwood State park. With its huge swath of uninterrupted old growth, Jedediah Smith Redwoods State Park is the most unspoiled redwood park.
Our day will come to an end in the Victorian seaport City of Eureka CA, gateway to the majestic CA Redwoods. Evening free to explore the charming town on your own before and after dinner
Day 10- Breakfast and lunch included
Depart Eureka for San Francisco (Optional overnight San Francisco)
Let's get up early because we will want to enjoy another day driving through the Avenue of Giants and visit another pristine Redwood forest.
The Avenue of the Giants is by far the most outstanding display of these giant trees in the entire 500 mile redwood belt. The Avenue of the Giants is surrounded by Humboldt Redwoods State Park which has the largest remaining stand of virgin redwoods in the world.
Our afternoon finds us driving 271 miles all the way to San Francisco right through wine country! Why not stop for a sip….. We will visit an Alexander Valley winery for a little wine tasting and lunch to break up our drive. What better way! Our drive comes to and end over the Golden Gate Bridge and into the one of the most unique cities in America, San Francisco!
Day 11
San Francisco – Tour Ends
Your tour ends today, but the memories will stay with you forever.
We will also assist you in attaining airport transfers for your departure or help you book excursions if extending your stay.
11- Days / 10 Nights – Seattle to San Francisco
TOUR COST PER PERSON: $5,588.00 per person
Rate includes:
• Transportation / Professional Driver/Guide
• Listed Attraction Admission & All Entry Fees
• Water daily
• All Meals as mentioned in itinerary