Dates: year round
Day of week: Customized to fix your groups schedule
Duration: 8-night / 9-day (package requires 6 or more for booking)
(Optional 9 night / 10 day to include Crater Lake National Park- $250 per person supplement)
Pricing: Contact us for pricing at 503-896-2464 (Transportation, Tour Guide, attractions listed, Hotels and some featured meals included)

* Seattle City Tour, Pikes Market, Space Needle & Seattle downtown waterfront area
* Tillicum Native American Salmon bake dinner/show experience including bay cruise to location
* Visit the eruption site near Mount St Helen's (seasonal)
* Portland City Tour
* Columbia River Gorge National Scenic Area including Multnomah falls, Gorge Waterfalls, Mt Hood, Timberline Lodge (seasonal)
* Entire length of the Oregon Coast: May include: Astoria, Cannon Beach, Haystack Rock, Lincoln City, Depoe Bay, Newport, Tillamook, Bandon, more)
* Oregon Dune buggy ride
* Optional Crater Lake National Park upon request ( see above)
* Rogue River Jetboat ride
* California Redwood Forest
* California Wine Country Tasting
* San Francisco, Golden Gate Bridge, Fisherman's Wharf and more in the bay area.
Itinerary
Day-1
ARRIVE SEATTLE (overnight Seattle)


Upon arrival in Seattle, you will be met at the airport and commence right into a Seattle city tour exploring all the city has to offer or picked up at a Downtown hotel if arriving the night before.
We will visit Seattle Center and enjoy the views from 500 ft up on the observation deck of the Space Needle. Our tour will also visit the infamous Pikes Place Market for some free time to shop, eat, explore and catch a glimpse of the fish mongers throwing giant fish across the room!
After our tour you can retire to your hotel, catch a show, shop or visit additional Seattle – must – see attractions.


*Tillicum Village Tour: A Narrated Cruise to Blake Island, Steamed Clam Appetizers upon arrival, a Salmon Buffet, a Native American-inspired program, Exploration Time on the island and a Return Cruise!
Day-2
Depart Seattle For Portland (Overnight Portland)
Drive this morning south to Oregon with a stop to see Mt St Helens in all her splendor and beauty. We will visit Johnston Ridge visitor centers that give the history, events and recovery of this unforgettable 1980 event!


• Movie – "Message from the Mountain" eruption movie.
• Interpretive Talk/Displays – portray the sequence of geologic events that transformed the landscape and opened up a new era in the science of monitoring an active volcano and forecasting eruptions.
• Closest View to Mount St. Helens – Visitors can expect to see views of the lava dome, crater, pumice plain, and the landslide deposit.
• US Forest Service Staff educational talks
Arriving in to Portland, your Portland city tour will begin including the infamous Rose Garden, downtown Cultural District & Neighborhoods before settling in to your hotel for an early evening.


You will have the evening free to wander downtown Portland in this lively, walking friendly city and seek out the unlimited dinning options to enjoy on your own.
Day-3
Mt Hood Loop Tour (8-9 hours) (Overnight Portland)



Explore the Columbia River Gorge and stand in awe of the second highest year-round waterfall in the United States! You will enjoy spectacular views of many waterfalls along the Old Historic Columbia River Highway. We will also be touring many of the other wonderful sites along the Columbia Gorge including Crown Point Vista House, a unique visitor's facility that was built in 1916.

The afternoon finds us climbing to an elevation of 6,000ft for a glimpse of an 11,245 ft volcano, Mt Hood, for a visit at a famous National Historic Landmark, Timberline Lodge, for astonishing views & tour of this living historic museum and ski resort.
On our loop tour you will pass through the "fruit loop" region, Hood River and explore this charming Historic town for lunch and shopping opportunities.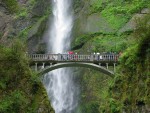 Stops include:
• National Historic Landmark: Timberline Lodge
• Hood River Valley and Historic town
• Fruit Stand (seasonal) an/or Wine Tasting
• National Historic Landmark: Bonneville Dam
• Old Historic Columbia River Hwy and Waterfalls
• Oregon's highest waterfall: Multnomah Falls
• Historic Crown Point Vista House
Day-4
Depart Portland for the Oregon Coast (overnight Seaside/Cannon Beach)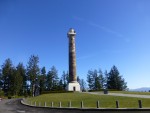 "Astoria is a city of 10,000 people on the Columbia River, just a few miles from the Pacific Ocean. It is surrounded by the beauty of the forest, mountains, three rivers and a bay. Because of its steep hills and beautiful Victorian homes, Astoria has been called the "Little San Francisco of the Pacific NW".
• We will visit the Astoria Column and an optional afternoon visit to Ft Clatsop, 1805-1806 winter home of Lewis and Clark, Crops of Discovery (or) the Maritime Museum to learn why the mouth of the Columbia is called the "Graveyard of the Pacific" and ideal training location for the US Coastguard.
• Free time for lunch and shopping in Astoria
• Depart for Cannon Beach for free time to enjoy this "Carmel CA" like town and walk the beach.
• Visit Haystack Rock, a designated Marine Sanctuary & Wildlife Refuge


• Optional culinary evening extravaganza and dining experience like no other at EVOO (available for
limited group size) or similar experience.
Extra Virgin Olive Oil is one of the dominant ingredients in the cooking as you will see during this "interactive dining experience". You wine and dine, watch and learn while everything is prepared in front of you. Picture yourself among the guests gathered around the chefs' kitchen-bar as you watch Bob Neroni a graduate of the CIA in Hyde Park, New York and Lenore Emery-Neroni prepare three entrees paired with three wines, followed by a great dessert. Imagine a lively discussion about food and wine as you savor each plate.
Day-5
Depart Cannon Beach for Florence (Overnight Florence)


• On our way south down Coast Highway 101, we will see dramatic cliff side views of the beautiful Pacific Ocean. We will stop at the Tillamook Cheese Factory for sampling and a self guided tour.
• The afternoon finds us making our way to Newport OR, former home of Keiko the whale and visit our 1st Oregon Coast Lighthouse, Yaquina Head Outstanding Natural Area. Then enjoy lunch in one of the numerous restaurants along the Old Town Newport waterfront bay.
"The 93 foot tower, Oregon's tallest, is located on a narrow point of land jutting due west into the Pacific Ocean north of Newport, at Yaquina Head Outstanding Natural Area. Winds and rain have buffeted this lighthouse since its beginning in 1872. It took approximately one year, and over 370,000 bricks to construct Oregon's tallest lighthouse."
• Oregon's coast hwy 101 offers spectacular viewing of the dramatic cliffs and beaches all the way to Florence Oregon, an inland town on the Siuslaw River known for the rich forestry and fishing history. But before we arrive, we will stop at one more of Oregon's dramatic Lighthouses, Heceta Head, known as Oregon's most photographed lighthouse.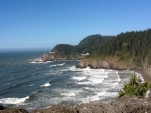 Day-6
Depart Florence for Gold Beach OR (Overnight Gold Beach)
• This morning we will set off for an adventure unlike no other! Dune buggy ride on the Oregon Dunes for views only your imagination thought possible.
"From Florence to Coos Bay, the Oregon Dunes National Recreation Area extends for 40 miles along the Oregon Coast. Formed by the ancient forces of wind, water and time, these dunes are like no others in the world. These are the largest expanse of coastal sand dunes in North America and they hold numerous opportunities for adventure and solitude."


• Your afternoon coast hwy drive heads inland a ways then brings us to the town of Coos Bay where we will have lunch and visit a Myrtlewood factory and store. This is the rare opportunity to bring home gifts of the Oregon Myrtlewood.

"The Myrtlewood Tree is unique to two places in the world – The Holy Land and a small section of the Pacific Northwest along the Central Oregon Coast."
• Continuing south takes us to the Coastal Town of Bandon, home to Ocean Spray Cranberries and Bandon golf course honored as the "Best New Public Course in America" in 1993 and premier course in the Northwest receiving a 4½ star rating from Golf Digest's list of "Places to Play in the USA.

Free time to walk along Bandon's beaches known as some of the
most beautiful in Oregon!
Day-7
Depart Gold Beach for Coastal Redwoods (Overnight Eureka CA)


• Our morning will start with an amazing scenic ride up the Rogue River on a jetboat still used today to deliver the mail up the river. The unmatched scenery and wildlife viewing will take your breath away.
• The amazingly beautiful coastal drive is not over! After lunch we continue on hwy 101, to the Oregon – California border to visit the Jedediah Smith Redwood State park.
"With its huge swath of uninterrupted old growth, Jedediah Smith Redwoods State Park is the most unspoiled redwood park. In fact the main drawback of Jed Smith, at least from a hikers' perspective, is that it's too undeveloped."
• Thomas H. Kuchel Visitor Center: Get a little beach combing in to search for the perfect piece of driftwood! The center features displays about the National Park, including one describing the restoration of land that has been extensively logged. A small theater shows videos about the coast redwoods, and a short interpretive trail leads through wetlands to the beach.
Our day will come to an end in the Victorian seaport City of Eureka CA, gateway to the majestic CA Redwoods. Evening free to explore the charming eateries on your own, order in or just sit by the inclosed pool and read a book.
Day-8
Depart Eureka for San Francisco (Overnight San Francisco)


• Lets get up early because we will want to enjoy another day driving through the Avenue of Giants and visit another pristine Redwood forest.
• Avenue of the Giants – A Destination: This world-famous scenic drive is a 31-mile portion of old Highway 101 with 51,222 acres of redwood groves. It is by far the most outstanding display of these giant trees in the entire 500 mile redwood belt. The Avenue of the Giants is surrounded by Humboldt Redwoods State Park which has the largest remaining stand of virgin redwoods in the world.
• Our afternoon finds us driving 271 miles all the way to San Francisco right through wine country! Why not stop for a sip….. We will visit an Alexander Valley winery for a little wine tasting and lunch to break up our drive. What better way!


Our drive comes to and end over the Golden Gate Bridge to arrive in one of the most unique cities in America, San Francisco!
Day-9
End of Service
If you are staying over extra days, we can assist you in booking any San Francisco sightseeing options; Alcatraz, City Tour, Wine tour, Bay Cruise, Helicopter rides, etc. (highly recommend booking some in advance due to availability, especially Alcatraz)
We will also assist you in attaining airport transfers for your departure.
* OPTIONAL TOUR ADD ON TO VISIT CRATER LAKE NATIONAL PARK. 2 DAY EXTENSION NEEDED TO BE INCLUDED TO EXISTING ITINERARY WITH A 2 NIGHT STAY IN GRANTS PASS. CALL FOR PRICING.
________________________________________________________________________________
Customized and Private Tours: Customized and private tours are available. Please contact us for details and pricing.
Payment: On-line reservations can be made using a credit or debit card. Payment will be processed immediately to secure your reservation. Payment on day of pick up will not guarantee your reservation.
Cancellation, Refunds and Changes: The guest may cancel the services at any time, but may be required to pay the applicable cancellation charges.
Tour Prices: Does not include tour guide nor driver Gratuity.
No smoking in Vehicles; No alcohol drinking in vehicles! Not responsible for articles left in vehicles! $200 minimum damage/cleaning charge resulting from customer misuse. All passengers are responsible and liable for their own actions while in this vehicle; neither the driver nor the company is responsible or liable for any injury or damage caused by or as a result of any customer actions. We are not in control of the traffic and therefore take no responsibility for time issues due to traffic.