Dates: year round
Day of week: Customized to fix your groups schedule
Duration: 4-nights & 5-days (package require 6 or more to secure booking)
Pricing: Contact us at 503-896-2464 for pricing
Includes: Transportation, Tour Guide, Hotel, Wine Tasting, Evergreen Aviation Museum, all admissions to listed attractions, water daily
Highlights
* Explore Portland City, Pearl District, Nob Hill, Shopping
* Multnomah Falls & Gorge Waterfalls
* Oregon's premier wineries and tasting rooms
* Oregon Coastal Tour ( Astoria, Cannon Beach, Tillamook, Lincoln City, Depoe Bay, Newport)
* Tillamook Cheese Factory
* Chinook Winds Casino
Itinerary
Day 1
We start your adventure with a tour of Portland, the City of Roses and Columbia Gorge National Scenic area for a few highlights of spectacular Multnomah Falls and Gorge Waterfalls. This combination offers a well-balanced overview of both downtown and surrounding area's history, culture and current events. Travel through the various parts of the city and visit all the must-see attractions, then we take you on another adventure throughout the various parts of the city neighborhoods, historical buildings, businesses and sights.
Itinerary Summary
On our acclaimed Portland City Tour. Some of the many attractions may include:
1. Downtown Portland:
Enjoy the sites of Pioneer Square and learn about the great diversity found in Portland's downtown area, the historical importance it has played in the state's history and the fast-growing culture that exists in the City of Portland. Learn about the final resting place of many prominent and notable citizens of Oregon, including many governors and United State Senators and other notable burials in the City of Portland.
2. Pittock Mansion:
A French Renaissance Chateau listed on the national registry of historic places. Enjoy the spectacular views from the grounds of the Pittock Mansion.
3. Portland International Rose Gardens:
With our 550 different varieties of Roses and the lush and beautiful Washington Park featuring some of the most amazing cascade mountain views around.
4. Portland Neighborhoods:
Some of the most popular neighborhoods may includes Nob Hill, The Pearl District, North Mississippi, Alberta and North Portland, Vista Hills and Council Crest.
Lunch: Downtown Portland area – on own
Columbia River Gorge National Scenic Area
After lunch, we start along the Historic Columbia River Highway National Scenic Byway. Some of the waterfalls make include; visiting Portland Women's Forum, Crown Point Vista House, Latourell Falls, Bridal Veil Falls, Multnomah Falls, Horse Tail Falls and Bonneville Dam.
Crown Point Vista House:
Best known of the scenic lookouts along the Historic Columbia River Highway, providing a panoramic view of the Columbia River. The Crown Point Vista House was built in 1916 and refurbished in 2005, with its beautiful marble interior and brass fixtures completely remodeled.
Latourell Falls:
Bridal Veil Falls:
Multnomah Falls:
The second highest year-round waterfall in the United States. Nearly two million visitors a year come to see this ancient waterfall, making it Oregon's number one public destination. Fed by underground springs from Larch Mountain, the flow over the falls varies but is highest during winter and spring.
Bonneville Dam:
In 1986, the Bonneville Lock and Dam project was placed on the National Register of Historic Places; it was later elevated to National Historic Landmark status. Several visitor centers provide information on fish migration and the operation of the powerhouse and navigation lock.
Return to Portland- Hotel Check in
Free time to explore in the even (dinner own your own)
Day 2 – Oregon Coast  (Astoria-Cannon Beach- Tillamook-Lincoln City)
8:00am Depart Portland to Astoria
Our adventure will take us through charming towns of Astoria, Cannon Beach, Manzanita, Wheeler, Tillamook, to Lincoln City. Oregon's coastline is graced with unforgettable vistas: dramatic cliffs, offshore rocks and sea lions; wide sandy beaches; majestic capes; historic lighthouses; enchanted forests and lovely small beach towns which artists and artisans make their home. Alone, the coast we will visit Astoria, Columbia River Maritime Museum's, Astoria Column,  Cannon Beach, Hay Stack Rock and enjoy spectacular views of the dramatic Oregon Coastline.
Columbia River Maritime Museum's: The major river of the Northwest, the Columbia River has long been an important route for transportation and commerce. The Columbia River bar, where the Columbia River opens to a wide mouth and empties into the Pacific Ocean, is known as the "Graveyard of the Pacific." The Columbia River Maritime Museum is an outstanding facility that provides exhibits covering the region's many shipwrecks and much more. Early European exploration, commercial fishing, the Coast Guard, and lighthouses are among the topics covered at the museum. You'll also see a long list of different kinds of vessels, both life-size and models, indoors and out on the river.  Welcome Aboard!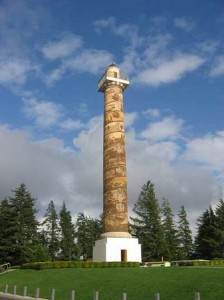 Astoria Column was erected in 1926 at an elevation of 600 feet atop Coxcomb Hill, the location of the first permanent American Settlement west of the Rockies. This impressive Oregon Coast historical monument is the only one of its kind in the world.The column displays 14 scenes commemorating important events in the history of Astoria. The mural scrolls around the 125-foot-high structure in an upward spiral direction, with the earliest scene at the base of the column. An interior 164-step spiral staircase leads to the top of a viewing platform with spectacular views. The Column's interior 164-step spiral staircase leads to the top of a viewing platform with breathtaking panoramic views of the Astoria Bridge, Pacific Ocean, and mouth of the Columbia River.
Lunch: Upon arrival in Cannon Beach a selection of restaurants to select from
Cannon Beach: A story book beach town with many scenic views including beautiful shorelines and Haystack Rock. Take a few minutes to stroll the cozy main street, shops, art galleries and a chance to stroll along the beach again.Our next stop the Historic Haystack Rock. A large basalt mono lifts that acts as marine wildlife sanctuary. Great location for some amazing photo shots before continuing south along Hwy 101.
Tillamook Cheese Factory: This is a great place to pick up gifts for family and friends or taste special reserve cheeses, ice cream and yogurt.
We'll travel to Lincoln City for a moment to enjoy factory outlet shopping ( No Tax!), then time to relax and a chance to freshen up for the evening dining and entertainment. Spend a little time exploring the beaches or Spirit Mountain Casino located right on the beach with some amazing views.
Hotel Check in Overnight Lincoln City – 2nights
Free time to explore in the even (dinner own your own)
Day 3 – (Lincoln City- Depot Bay- Newport – Lincoln City)
Our day takes us through charming towns and offers breathtaking views and lighthouses, sea lion caves, and beaches to explore. Newport: A beautiful little town with incredible views and great shopping. Wildlife is abundant. Watch for coastal sea birds (cormorants, murres, and guillemonts), harbor seals, sea lions, and gray whales. Newport is also home to the Oregon Coast Aquarium, Ripley's Believe It or Not! and The Wax Works museums.
Our stops today include:
Depoe Bay: Set among towering cliffs, Depoe Bay is the whale-watching capital of Oregon. Gray whales make their home near this rocky refuge 10 months out of the year. We'll keep our eyes peeled for water spouts and breaching cetaceans.
Yaquina Head lighthouse: Take a tour of the past as you ascend the circular staircase up the lighthouse tower. This is one of the most popular lighthouses in the United States, and offers superb wildlife and ocean viewing.
Heceta Head: It's more than just a lighthouse. It is also a 549 acre park with trails, tide pools, wildlife habitat, and sandy beaches. And with an elevation of over 1,000 feet, it has great viewpoints.
Sea Lion Caves: Take an elevator down into the caves and witness a truly unique spectacle under the sea were hundreds of sea lions gather to rest.
Next we will return to Lincoln City for one final night to wander around the beaches, art galleries, Tax Free! shopping at the outlet stores or time to freshen up for dinner.
Return to Overnight Lincoln City – 2nights
Free time to explore in the even (dinner own your own)
Day 5 Lincoln City –Portland
Enroute back to Portland optional to stop and enjoy some amazing Oregon's premier wineries and tasting rooms.Enroute back to Portland optional to stop and enjoy some amazing Oregon's premier wineries and tasting rooms.
Enroute back to Portland optional to stop and enjoy some amazing Oregon's premier wineries. Portland is the perfect hub for Oregon Wine Country and the Willamette Valley. With more than 580 Oregon's wineries calling the Willamette Valley home, it's easy to find one to suit your taste. Whether you're in the mood for Pinot Noir or other varietals, experiencing the ambiance of a hip, metropolitan winery or admiring the legacy of a small town vineyard pioneer, you'll find it in the Willamette Valley.
Return to Portland
We will work to make any arrangement that work within your schedule. Contact us for customize trips.